Need Help Casting Silicon brains for medical student teaching
I need help from the experts here on creating totally encapsulated brains out of silicone. I have a 5 gallon kit of Dragon Skin 10 medium from Smooth-On to make the 25 casts, but the difficult aspect so far is making a mold that can be reused over and over to have the detail needed for teaching medical students about the brain and its features without needing to use and/or destroy cadaver brains from human donors.
Here is a link to my Molding history with various medical molds.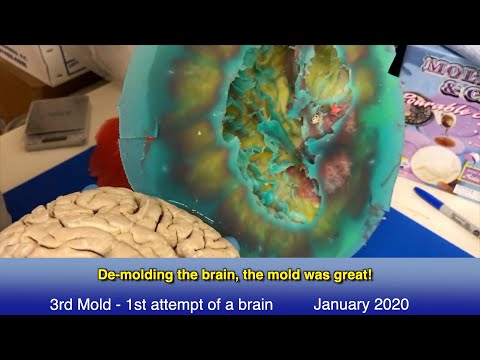 https://youtu.be/TONrFV0AGTY
The biggest problem I have is that because the fissures of the brain are so thin, the silicone gets trapped and then tears. I have tried using straight vaseline, but then the vessel details are lost. Also I have tried creating a smooth cast 310 brain and filling in the fissures with clay. but now am faced with the brain needing to be a multi part mold or to cut the brain int 3 parts and then mold  them as 2 part molds and then cast them out of silicon and then glue them back together hoping that they all mate back the same way.
Please advise, thanks!
Rick
Post edited by Rick Melges on