Here's My 2 entries, Mrs Doubtfire and Seymour w/Audrey 2 costumes
So For Mrs. Doubtfire Halloween costume I made everything except the shoes,stockings, bag and glasses.  This is a 6 piece GM foam latex appliance make up, I sculpted, molded, and ran myself. I created the wig from hair tracks I purchased locally at a wig shop and hand sewed them onto a wig net, and hand tied the front edge.  I did an extensive internet search for the same style glasses used in the film, and even had little green nerf balls in the bag to chuck at people for "run by frutings"
(note: This is always a fun time when drunk on Halloween.)  Admittedly the fat suit may be a little TOO fat ... lol watch the video to the end for a fun shot of that ...;)  but for the budget I had to work with I was pleased with the end product and it works for Halloween and cosplay stuff.  Painted with Shadow airbrush by paasche and using european body art, Skin illustrator, and Krylon colors. Heres some Mrs. Doubtfire antics on video too...  
https://www.facebook.com/RJHaddy/videos/896103613758944/
For Seymour I made the Audrey 2 using L-200, a lot of high end greenery and a real clay pot.  I cut a hole in the pot with a dremmel, and I got the jacket and clothes from the local good will and took the jacket and hat to a local embroidery shop to have them embroidered with "Mushnick's Skid Row Floral"  The false hand holding the pot is made from a cast of my own right hand and poured in Smooth-on's Dragon skin.  I added bandaids to the fingers to make it look like poor Seymour has just had enough feeing little two-ie.  As a bonus I added a Vfx sound bite kit to the pot so she could scare more people by actually talking.  Watch the video here...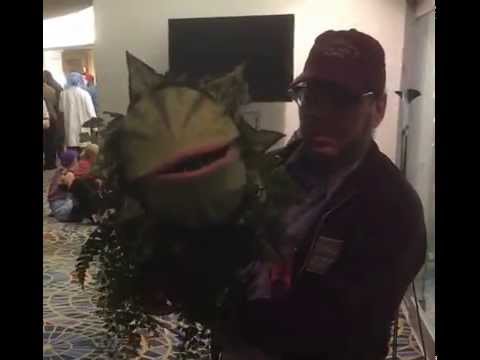 https://www.youtube.com/watch?v=jlw2J-g1hvY
It was a fun outfit for Halloween and cosplay, although this is just one of her 5 different sizes I have built all by myself for the stage show, this one is really the only one you can get away with walking around with all night.  The puppet is painted using the European body art colors and Shadow airbrush once again.  Thanks for looking and doing this great contest for your fans!!! Everyone here did some amazing work lots of passion in this holiday season!!! It all looks awesome!!!