Myhlo Puppet Test
Barthe Florian
France
✭✭
 Hi everybody, 
 It's been a while since I posted on the forum, but still, I have just finished the Myhlo Puppet Project I was working on since a few months now, for the Science Fiction indie movie: Oliver Tietgen's "Violent Starr". 
 He contacted me through this forum after he saw the artist spotlight you posted about my work. He saw Myhlo, the winning creature of the Alien Art Contest in April last year, and asked me to build a puppet of my monster.
 Actually, I have spent this year taking notes and sketches in a big binder, from all your awesome webcourses I could watch. Including David Monzingo's great lesson about rods and cable puppets... It was the perfect occasion to apply all I learnt from him! I wanted to special thank him for that.
 I'm pretty happy with the final result, even if I made mistakes that I would not do if I had to build it again. But still, for a first attempt, I have to admit that it works quite well!
 Here are the links to the test footage of the puppet I posted on my FB page and Youtube: 
https://www.facebook.com/barthe.florian/?hc_ref=PAGES_TIMELINE&fref=nf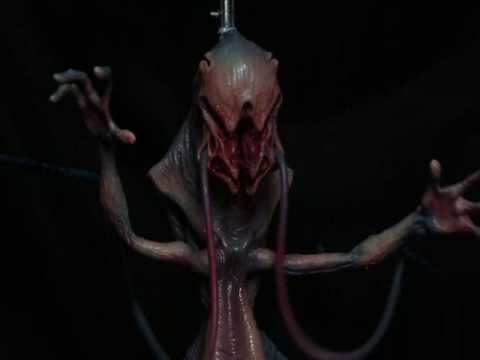 Friends came to help me controlling and shooting. We could spend hours and hours playing with it, bringing it to life, but I have to send it to the studios next days... I will play in another time, for now I just want to make more! 
 Anyway, I already know what will be the next step for me... I've just finished Craig's webcourses about animatronic heads and David's animatronics eyes system lesson which I think I will both combine in my next project. Let's see what will happen!
 Thank you again to all the Stan Winston team for the incredible knowledge you share and all the inspiration and opportunities you give. 
Best, 
Florian.
Post edited by Barthe Florian on