Major Chip Hazard - Leader of The Commando Elite (Small Soldiers)
Hi there!
I'm Jon and I'm an indie game developer/short film maker. When my parents decided to move to New York in 1998, one of the first things I remember seeing was the "Declare Your Allegiance" poster for Small Soldiers. I was 8 years old, and was instantly mesmerized by the Commando Elite. My parents, staunch pacifists, were not too happy about this! Small Soldiers became a subject of hot conflict within our household, as I had to find info/pics and pieces of Stan Winston Studio's amazing work whenever we went out, like a hound, I would sniff out some Small Soldiers goodness and bring it to my parents, only to be denied the purchase.


My father was making animated films and he would take me around art supply stores. The one question I always had on my mind was : "Can I use these materials to make myself a Chip Hazard?" I think I wore him out, and he eventually told me I could, one day, make myself one. 


Well that time has come. Twenty-something years later, my fascination with the Commando Elite has not lost an ounce of strength. As an indie game developer, I now had the skills to model Chip Hazard the way I always wanted to have, and the kicker was, my father was going to help me print him! So without further ado, I present my entry to the contest. 
For your consideration:
The one. The only. Major Chip Hazard, leader of the Commando Elite!
Here's a short faux-commercial I made for this contest:
I wanted to put every little detail that was on the original on my replica. Keep in mind that this is my first 3D printed replica project, but I'm blown away by the final results. He's printed in PLA and PLA+ (tough guy!), been treated with fillers and sandpaper for tens of hours before being primed, hand painted and spray varnished. He's one durable action figure, as he's travelled with me across the world multiple times and we've had many an adventure! 
I'm doing the entire set of Commandos, but my entry had to be my favorite. Hope you like him!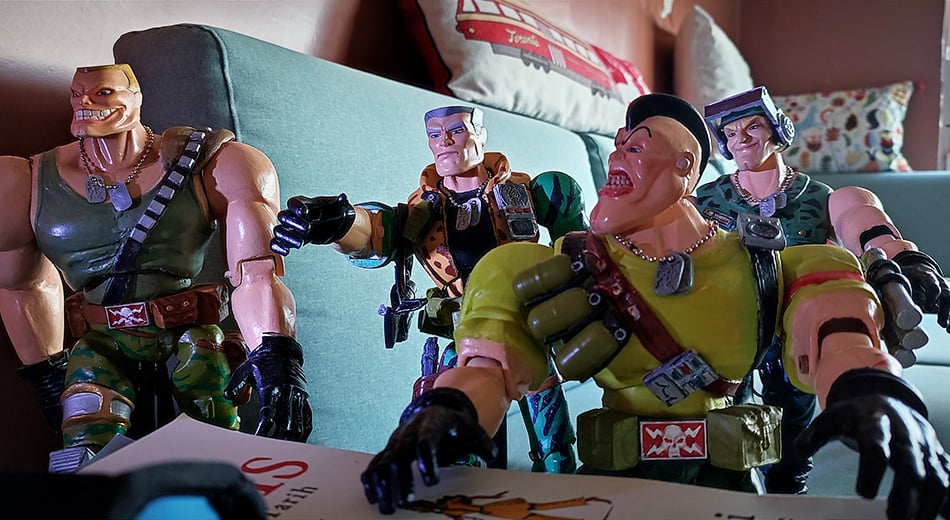 The original "Major Chip Hazard" character created by Stan Winston Studio and Hasbro.