Robocop Figure ,scale 1/10 (Polymer Clay)
[🇪🇸] Comparto este trabajo, un pedido para un cliente, Robocop. Realizado en arcilla polimerica Crafty. Iniciado de 0. Modelado totalmente de forma tradicional. Un gran desafío, ya que nunca hice este personaje. 
En escala 1:10. (23 cm con base).
Cabeza intercambiable sin encastre. Posicionamiento con imán.
[🇺🇸] I share this  job, an order for a client, Robocop. Made of  polymer clay. Started from 0. Totally modeled in the traditional way. A great challenge, since I never did this character.
In 1:10 scale. (23 cm with base).
Interchangeable head without recess. Magnet positioning.
Here is a video on my youtube channel.
https://youtube.com/channel/UCFGDpf9sd0SErFYLeoMuwjA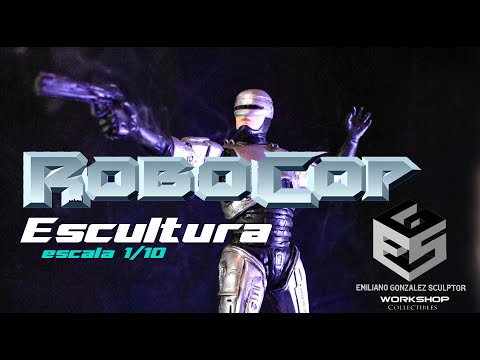 https://youtu.be/KayIRGrWT1g