The Carrion Beast
Greetings all! I'd like to preface this entry with a little back story. 
In 2017 I was working a full time job in retail, 3d printing was a new hobby of mine, so I began exploring prop making in my spare time. In early 2018 I got a job offer to build a creature suit for a commercial filming in LA so I quit my job in Seattle and moved to Hollywoodland. I worked on several low budget gigs since then, creating props and creatures mostly for video game adverts. In in late 2018 I got a gig to create this creature for Devolver Digital's E3 reveal of the game Carrion.
This lovely creature was built in about 3 days on a shoestring budget of like 500 dollars, and about 5 hours of sleep total.
The gag worked really well, and a nearly a year later I was approached to create an improved version with a "real" budget.
Using this newfound budget I was able to put together a small team of 3 people, myself, someone who knows materials, and someone who could help bust out a huge sculpture in a handful of days, in what would be my first real creature build of my career!
Below you will find some progress pictures, however there are MANY pictures so I've created an imgur album which you can find here: 
https://imgur.com/a/4bbeYOQ/layout/grid
I'll start with the updated and improved concept art:
After a few days of slapping wed clay into submission:
FYI, I despise tamping glass
Nearly two grand worth of Body Double for making that underskull (don't ask me why I used such expensive silicone LMAO):
Got that foam ran:
Built out the lower body with cotton, latex, and foam:
Blended, painted, and sealed:
Final looks:
You can watch this bad boy in action right here: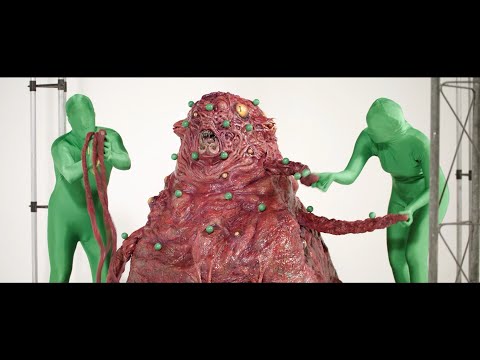 https://www.youtube.com/watch?v=btAkCnnkLIc