Gary Oldman's Dracula, from Francis Ford Coppola's "Dracula"
Hi there, this is one of my entries for the contest. This is a costume and SFX makeup I made and I also wore myself. I've added some pictures of me in and out of makeup.
I made it some time ago (this is what got me to focus on Special Makeup Effects as a career!). However, the makeup shown in the photos is self-applied entirely (the first time I applied the makeup, in 2015, I had help from assistants to glue the appliances down).
···Construction details···Prosthetic Makeup
I sculpted the pieces in Chavant Medium, moulded them, and run them in PlatGel 10 + deadener (150-180%); I encapsulated the appliances in Super Baldiez. I made 10 appliances in total (forehead, left + right cheeks, upper lip, bottom lip + chin, left + right earlobes, 3 pieces for the neck. I also made some blenders to blend the wig line a bit further with the forehead. 
I painted the appliances using Skin Illustrator palettes. All self-applied using Thelesis 5 and probondo for the stubborn edges. 
Wig
I used 3 front lace wigs from Arda Wigs + 18" long extensions to make this wig. It ended up being quite heavy (3-4kg), but I was quite happy with the results. I made two foam core forms for each hair-buns, and I used PVA glue and got2b glue to style and "sculpt" the wig. 
Costume
I made the costume entirely from scratch. I made the red robe using about 4-5 metres of red back-crepe satin, made the shroud using linen fabrics and I also made the ring! Most importantly, I hand-embroidered the dragon motifs on the robe and the other details on the shroud. Took a month or two of hand-embroidering.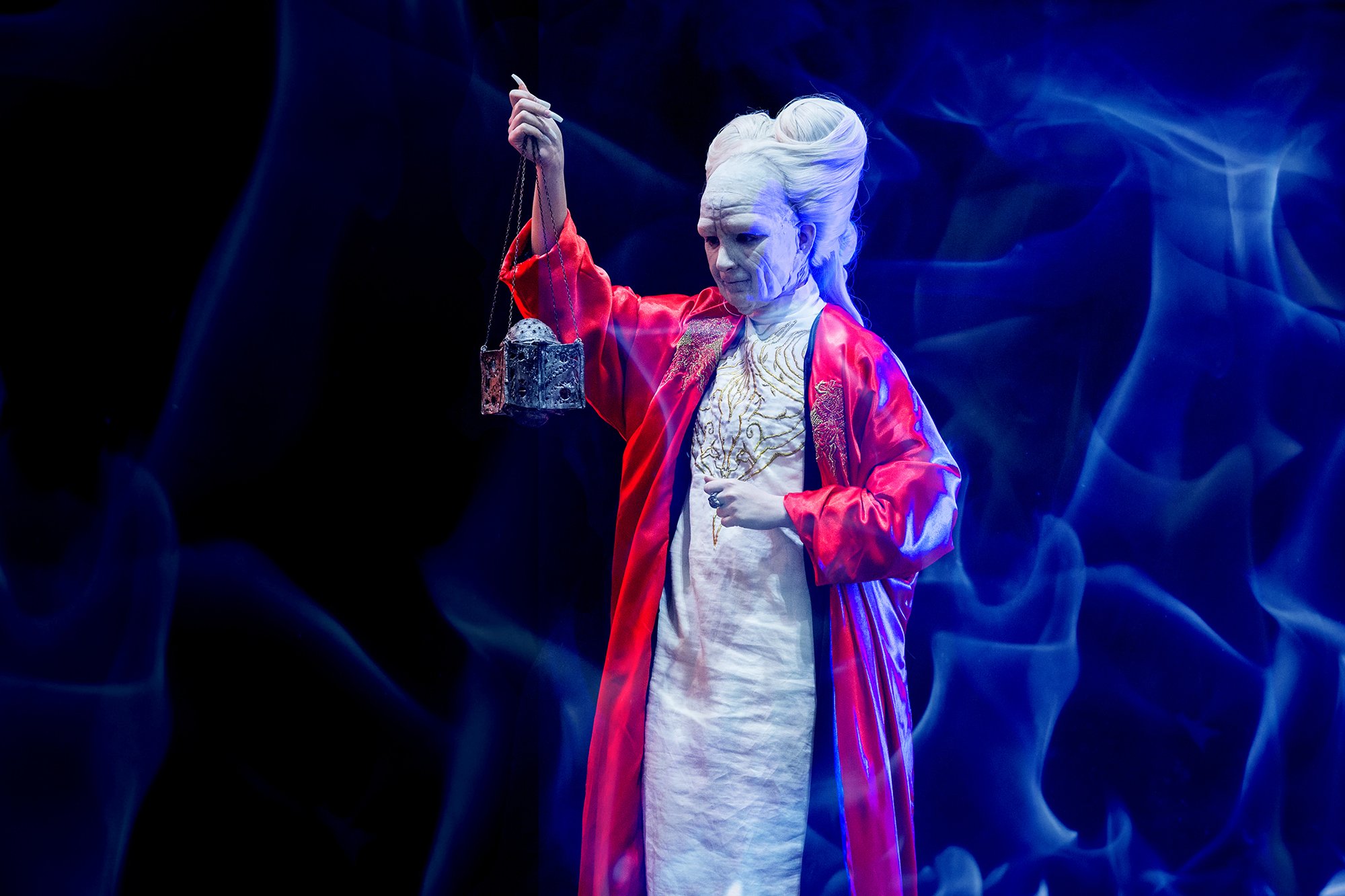 Photos by Kosupics (top picture), and MangaGirl Cosplay (Harriett Greene) 
My work on
http://www.instagram.com/bbsfx
(and as a cosplayer--> 
http://www.instagram.com/shirakcosplay
)