Iron Man MK1V
Hello,
This is my Iron Man MKIV cosplay, from the movie Iron Man 2.
In total I spent the last 5.5 years building it from scratch. I 3d rendered all of the suit myself using Blender, except for the helmet since there were plenty of obj files of that around.  
I then used an Anet A8 3d printer to print in over 200 individual pieces of the suit, and interior mounting tabs and brackets.  Then everything had to be friction welded together, and mounted with help of a duct tape mannequin I made of myself.
All pieces were painted with automotive paints. The top coats specifically are House of Kolor Kandy Apple Red, and Kandy Pagan Gold over Orion Silver.
The electronics were made and programmed by myself using arduino boards. The Helmet, chest, back, helmet and hands, are all stand alone units, with their own boards, batteries, and speakers.
The elbows, knees and boots, use various machined bushings and sleeves to allow for smooth movement of the joints.
Thank you for your consideration. I know the Stan Winston School did the work on the original suits for the movies, and I hope at the very least you enjoy what I was able to do.
The video shows the movement and use of the electronics I mounted into the suit.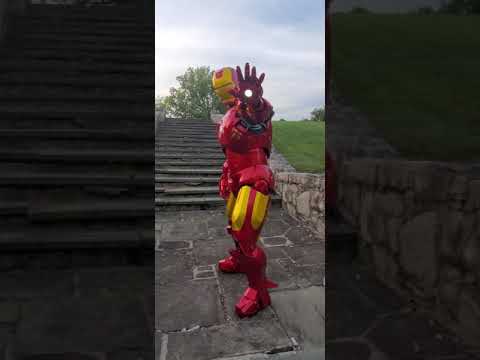 https://youtu.be/QEX36xTa8V8
Thank you,
Chris