G3- GOLDEN GANJA GODDESS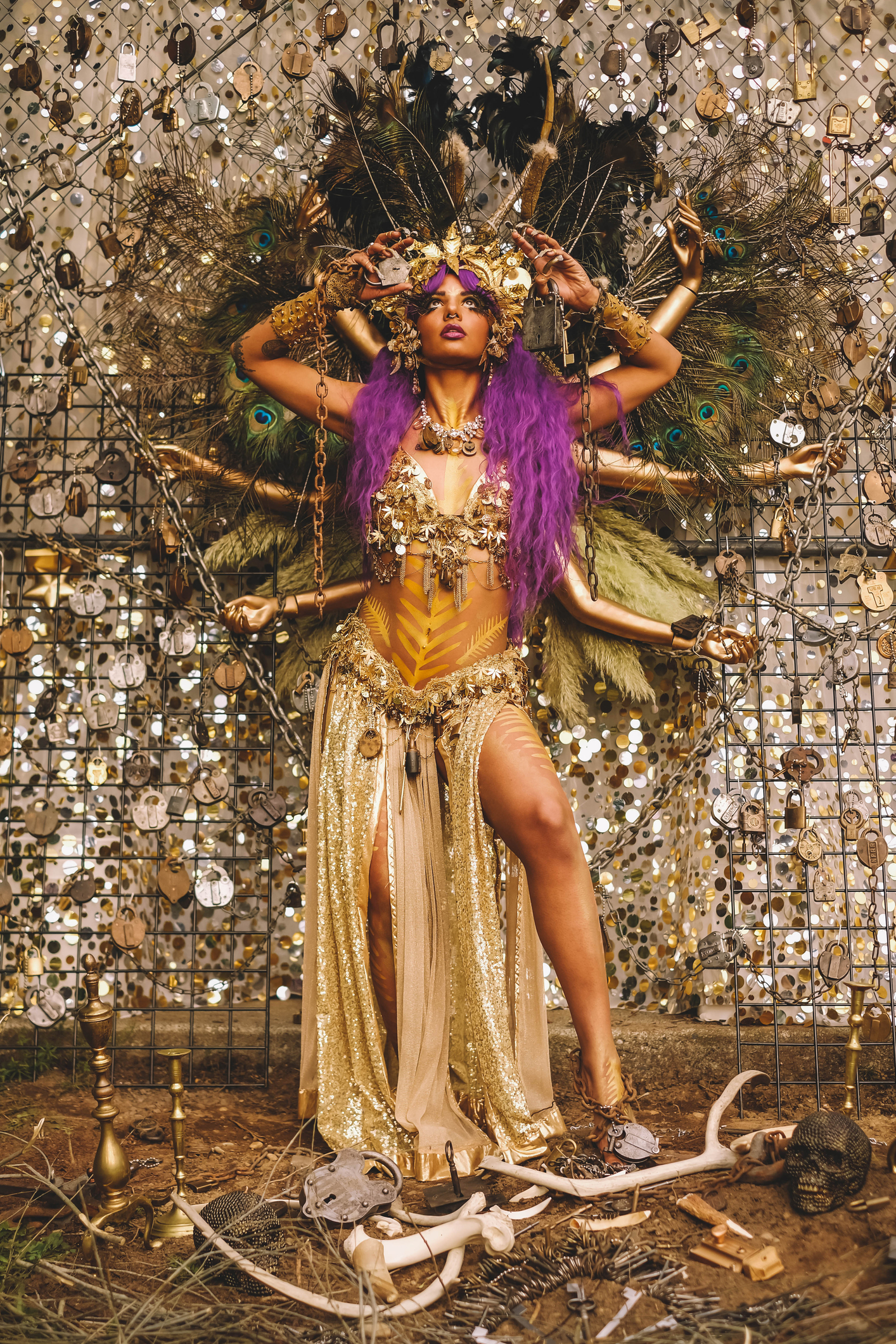 G3
"GOLD GANJA GODDESS"

Be mindful of your thoughts… this labyrinth of the human mind can trap you in a vicious cycle. Golden energy the Will or Spirit is wrapped in primal bondage chained down and locked up in illusions, fears of our own creation within our own mind. How to find the strength to rise up and fight for your truth breaking barriers and conscious fears that hold us back. Honesty and serenity are balanced and the esteem to surrendering and admitting your own mindfulness to yourself. The celebration of growth and the golden will in all of us can overcome fear.
*Multifaceted technique: Visual Design & Set Design, Fashion Design, Costume Design, & jewelry design, Bodypainting, makeup artistry, nail, and hair design. Painting, Theatrical Prop design, and Procurement.
Set Design: Goddess wings, large fans hand made out of peacock feathers, Green leaf showgirl fans, hand-dyed and made from Pompass Grass leaves. Black aurora borealis feather demonic wings are the last layered of flight under the Gold arms. Golden Painted mannequin arms all displayed as large goddess wings. Hand-painted Elkhorns to complete these flying goddess antennas.
Set Backdrop: White chiffon drapes sewn with gold and silver sequins increasing in size and grouping density fading from one edge to the other. Chains and Antique locks ranging from years 1750-1950 all acquired for this scene.
Antique-Locks & Chains & Bones: Loaned for this photo-shoot from an antique collector.
Costume: Hand made and custom designed and hand-sewn "gold cannabis leaf sequins" belly dance bustier top and shimmer belt, embroidered with gold lamè lace and golden trinkets and charms with layers of gold chains. A long fabric Sequin flowing skirt and netting sheer modesty skirt.
Headdress: Glitter vinyl intricately cut out in a large maple and cannabis leaf design with 3D accessorized floral appliquè earpieces. Each Cannabis leaf has Gold Shiny veins that are heat transfer applied to the glitter vinyl leaves. Chains trinkets and bells were intricately decorated across the points of leaves weaving a jingling web above her crowed head.
Jewelry: Gold chain necklace with antique and rare lock and lockets. Large Swarovski crystal earring and necklace with topaz and Colorado accented Swarovski crystals. Custom cuffs designed and die cut faux leather Vinyl; lace cannabis leaf cuffs with jingle gold bells.
Makeup: Custom made Peacock eyelashes and eyebrows, hand glued and curled, and cut to fit the animalistic look of the goddess. Gold and Black Smokey- eye makeup and neon purple and pink lips to accent hair.
Hair and Nails: Long curved Gold antiqued and crystal nails with ombre Green moss painted tones with wrapped wire attachment. Neon Purple wavy locks with bangs the tresses were teased and maximized fullness.
Body painting- Legs, Arms, and Body all painted with Gold luster body paint. The leaf and veins design had shimmer green leaf edges dusted the entire body of the goddess-like a glistening GOLD plant skeleton.