Facial tracking for character performance

Chris Ellerby
Los Angeles
Admin
In a conversation on another thread 
David Boccabella
 mentioned his research into facial tracking, and I though the subject was so great that it warrants its own thread.
David Boccabella:

I did an experiment for a facial waldo.. Precision pot's were horribly expensive especially linear ones. When I finally got some I found that pressure needed to move them was far above say the pressure a lip can give.
However I did have some very cheap 9gram servos that I got in bulk from eBay. So stripping the motors and most of the gears out of them and putting in a longer horn - I have a 'linear' style servo that almost moved when one breathed on it.
Was very easy to do the prototype waldo then.
Current experiment is using EMG to pick up facial muscle movements

With complex challenges like facial tracking it's always great to tackle them from as many perspectives as possible, so if any of you have ideas, please share!
I have no experience with EMG (Electromyography), so I can't wait to see David's results.  I do have experience with optical tracking and microcontrollers, so I figured I'd see (at least academically) how I might approach the challenge using off the shelf components for optical tracking.
The problem with optical tracking is that you typically need a full computer to handle all the processing required to track multiple markers.  That task would overwhelm a single microcontroller.  That folks over at
Charmed Labs
have come up with a novel solution to this problem.  Their product
Pixy
is an optical tracking camera with an onboard microcontroller.  It is capable of tracking multiple colored markers and outputting their positional data in a variety of protocols.  What this means is Pixy does all the heavy lifting, and you can hook it up to your own microcontroller (like an Arduino) and just read the data feed.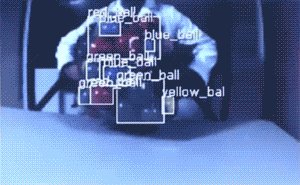 With that in mind, here is a conceptual setup.
The tracker:
Pixy optical tracking camera
Head mount (strapping rig from a hardhat or something similar)
Articulated arm for camera.  I'd use an Israeli arm.
Optional LED to keep performer's face evenly lit as they move around.
The brain:The markers:
For durable markers I'd try something like brightly pigmented PAX paint.  The camera can be trained to recognize and label different colors.  Each color would represent a specific point of articulation on the face.
Now lets look at the pros and cons for this theoretical implementation.  These pros and cons are not based on comparison with other implementations, but just looking at potential positive and negative aspects of this implementation on its own.
Pros:
Inexpensive.  The electronics would be around $100
Scaleable.  Adding new markers, or multiple performers would be trivial.
No moving parts.  Each moving part in a system introduces a potential point of failure.
Short setup time.  Just strap on a helmet and paint a few colored dots on the face.
No bulky computer with slow booting operating system and demanding power requirements.
Cons:
Might not work for all applications.  For example, I believe David is planning on tracking a performer's face while they are inside a character suit.  That would not leave much room for a camera, and you might not want to light up the inside of the character's head.  Depending on character design it might be possible, but has spacial requirements.
Potential for data noise.  You might need to add in some positional smoothing algorithms to account for possible jitter.
Potential for latency.  Each link in the data chain adds potential for latency.  (Camera > Micro Controller > Processing and potential smoothing algorithms, Servo Controller,  Servo)  This could be mitigated with the use lower latency digital servos and a well optimized data pipeline.
Accuracy with minute movements.  Much like predicting latency, without building this system it's difficult to determine what the fidelity would be like.
As with any system it would need to be celebrated to each individual performer, so their unique range of movements could be mapped to the movements of the character.
For now this is just a fun thought exercise inspired by David's research with Electromyography.
If anyone else out there has another way they might tackle this challenge please post your thoughts!
/Chris
Post edited by Chris Ellerby on