The Walking Dead's Winslow costume
Here is my Winslow zombie costume from the walking dead
Second image is from AMC's The Walking Dead for comparison (this is not my costume)
First i started with a paper mache helmet crafted around a balloon then cut to fit my head.
Then i traced and cut out shapes from knives i had in my house.... and a surprise which you'll see after.
The following are images after attaching a foam knife at a time.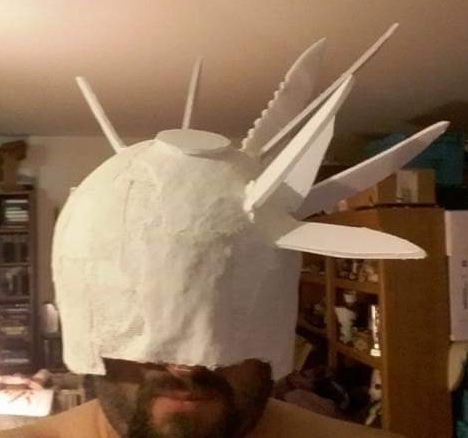 And now the little surprise i added to the back of the helmet for fun. 
 that's right.  A fricken batarang!   During this while process i was also busy making spikes as shown below. 
Now a little paint job, which every cosplay is a learning experience. .. spray paint will melt foam if not then it will curl the paper which is what happend here.  
But in the end. . It turned out great winning first prize at the 2017 monster mania convention for scariest costume.