AVPR : Wolf Predator Halloween 2018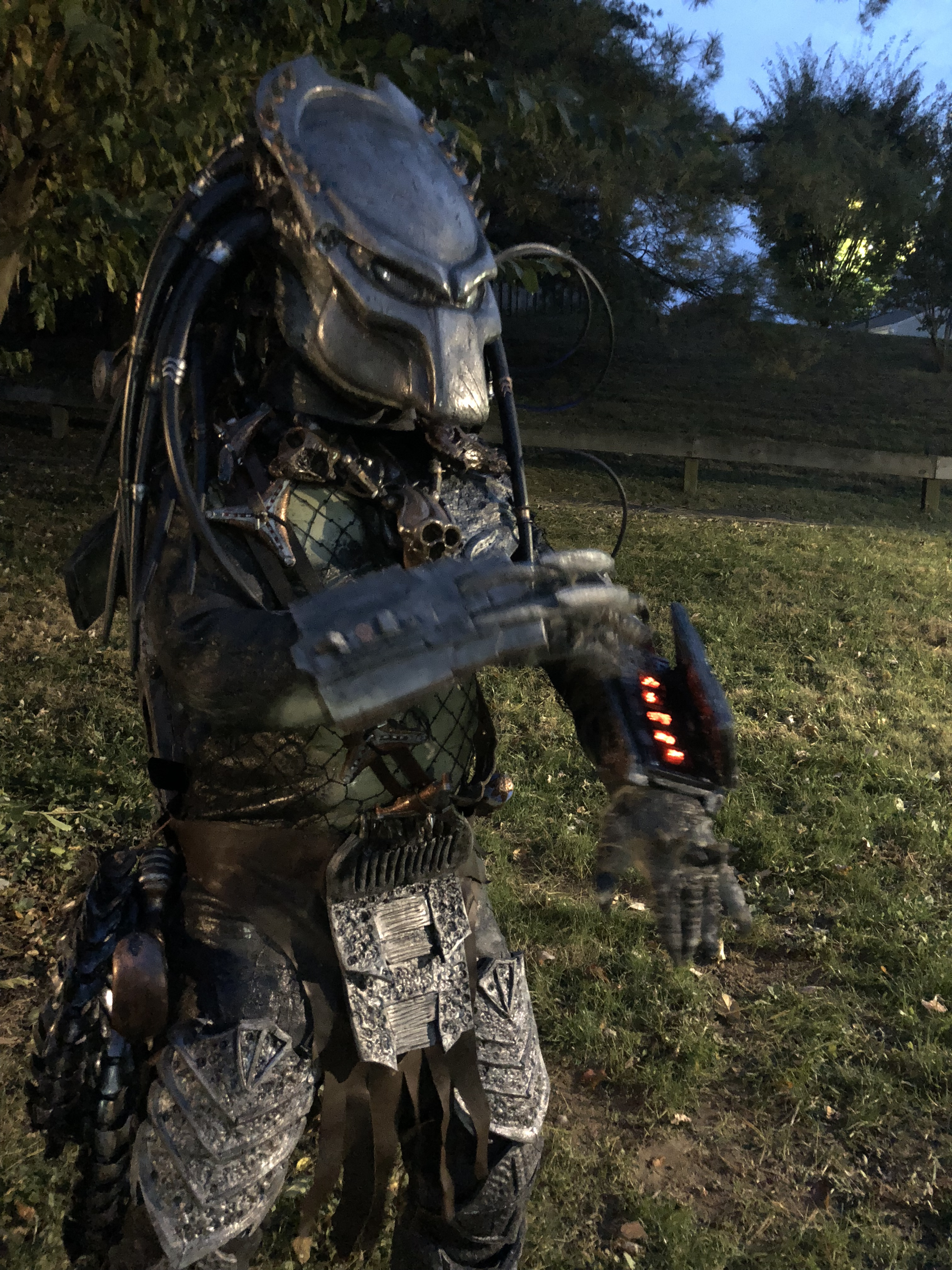 This is my Halloween 🎃 costume 2018. I  love the Predator franchise ,so I decided to build "Wolf Predator " from Aliens vs Predator the Requiem movie . This build took over a year and a half . Everything was fabricated by me except the half mask and dreads , but was painted by me . The build used foam for the armor , 407  latex for the skin,  Pepakura/bondo and casted the bio mask and polyurethane plastics.The suit has all the electronics from the movie such as the bomb count down gauntlet the working plasma cannon with sound effect and claymore mines . The helmet bio included led light for the eyes, fans, and the iconic 3 point lasers. These are the items needed to complete the re-creation of the wolf Predator:
Bio helmet with laser / lighted eyes/ fans
Latex Half mask
dreads/rings 
Latex Neck collar
Skull necklace made with smooth cast 65d
Full 407 latex skin /body mesh
back pack harness-foam plastic 
Backpack -foam 
MedKit-foam
Plasma Cannon hand held and shoulder mount 
leather loin cloth
dissovling liquid vial molded plastic
teeth belt buckle- plastic / foam 
bandolier working mines-leather /plastic 
Shuriken - molded /plastic 
Electronic bomb gauntlet -foam
 impaler  gauntlets -foam
Power punch gloves-latex 407
thigh armor-foam
knee armor-foam
Shin Armor-foam
shoes -old Nike boots / foam
Armor straps - leather 
whip-foam/polyurethane 
Paint- rubber inks
I would also like to thank the other members of the fan site The Predatorium that help me through this long but worthwhile project.
https://youtu.be/_OmMSV-taFU
https://youtu.be/qymrz-vXdJw