Modthyrth the Ancient Vampire
For the purposes of the haunted house I designed for Will Geer's Theatricum Botanicum this Halloween, I built the character of MODTHYRTH, the ancient vampire! The scenario was that an old vampire had infected an aristocratic Eastern European family and consequently, the village that surrounds their manor house. The central feature is, of course, the mask (under which dark red eye-makeup is applied for performance purposes).
And, of course, the silhouette is so very important with the black feather cloak.
I started the building process by making a standard plaster 3/4 mask mold of my face, followed by building the flesh structures out of cellu-clay.
The horns were built into the mask by melding clay and some choice wooden branches.
Several layers of gesso smooth, strengthen, and unify the features.
Then comes the first layer of paint. Stark, unrefined.
With a finished paint process, over which wet flesh features are garnished with varnish, and a veil of hair added to the horns (synthetic for cost purposes), the mask itself is complete!
Of course, the mask is not the only feature. The feather cloak (pictured right) finishes the look, the cloak itself a very lucky fabric find of mine fashioned into a wearable piece. The feather gorget about the neck is a separate piece, a few layers of feathers glued to a fabric neckpiece with added clasps. Pictured left is my lovely lady, happy to pose for any costume fun.
Put all the pieces together, and you get the most attractive of all men!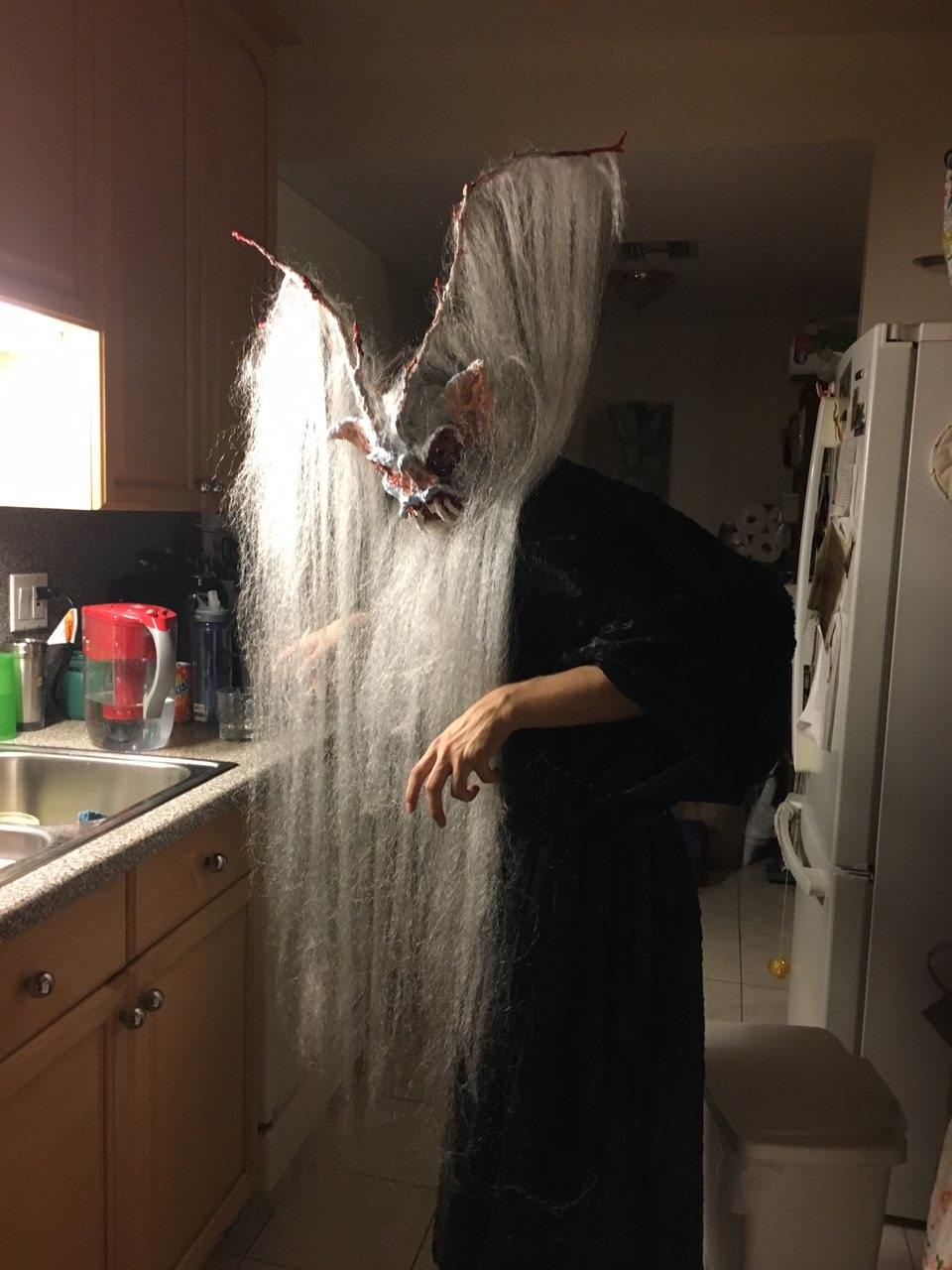 At last, Modthyrth makes his way to the haunted house under the stark blue light of the house's attic, with his Renfield-esque buddy/minion.
At long last, Halloween approaches and I take the Modthyrth costume to a lovely party with my lady love, dressed as a silent film damsel (with makeup inspired by Kreimhild from part two of Fritz Lang's silent epic Die Nibelungen, of course). 
What a joyous Halloween. Thank you for joining me on my journey creating this super fun character!