Vera the Ventriloquist - Clown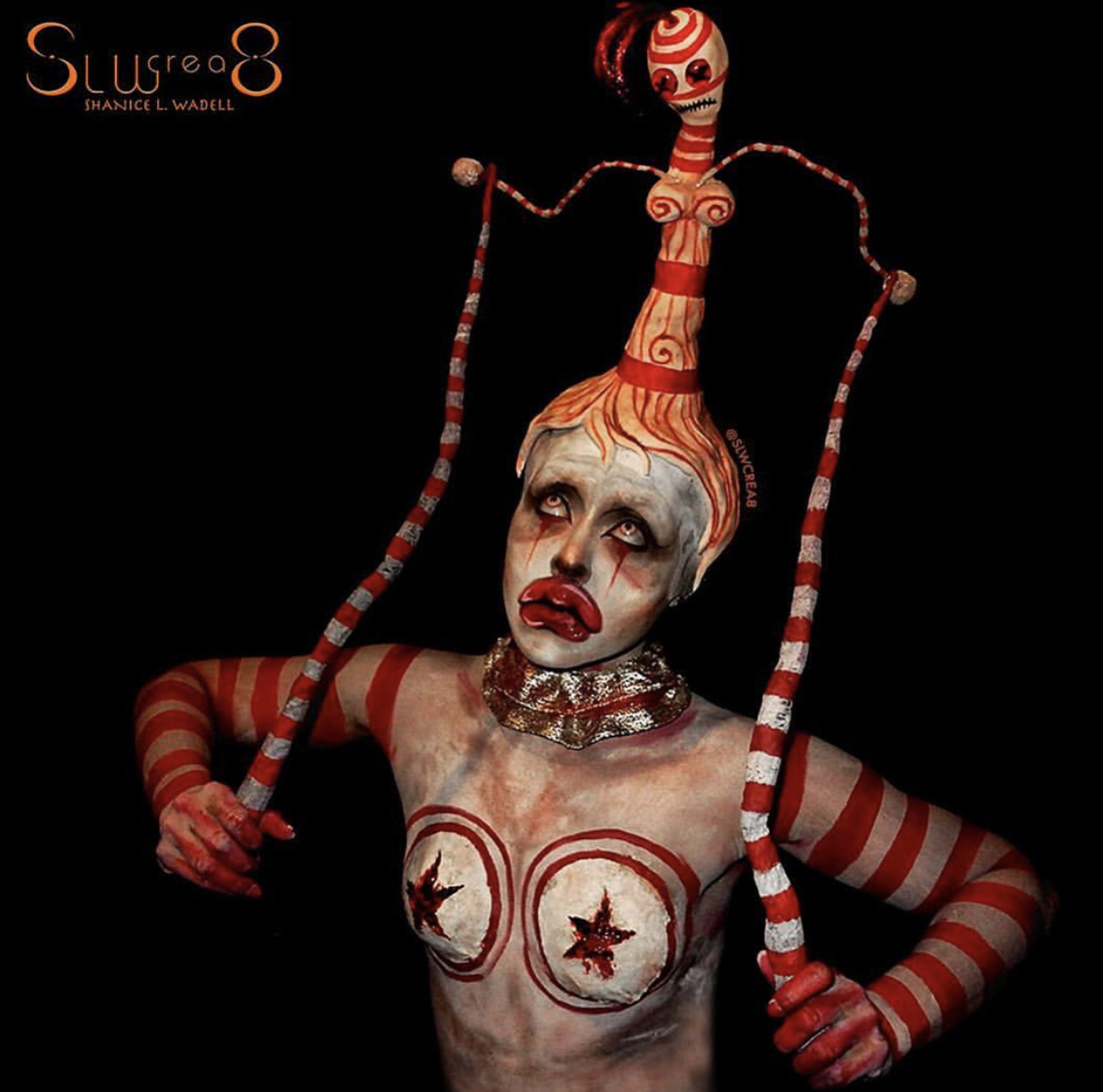 Entry #2 Coming At-Cha!
This is one of my favorite clown look that I have created so far. I love daring to break from the traditional. This look was inspired by Adrian Borda's oil painting called "Happy Feet". As soon as I saw it I knew I wanted to bring it to life! Borda never gave his painting a backstory... so while creating my look I decided to create my own little fantasy short story and give "myself" a name.... Vera the Ventriloquist. Continue reading for my short story, products used, and bonus pictures of the making of my breast pieces, and head piece "puppet".
// Vera the Ventriloquist \\
Vera was always the lonely clown out… you see, she didn't quite fit in at the circus. One day, after a riveting show, she was left to clean up the stands that once filled a large crowd. While the other clowns went off to celebrate, drink, and be merry.
Vera was picking up sticky cotton candy, and popcorn off the ground. While cleaning up the ungodly mess, Vera came across a little doll. It must have been forgotten by one of the brattish children from the show. As she stared at this doll she started to feel a connection… the doll looked just as lonely and forgotten as herself.
Vera took the doll as her own. As weeks past, Vera became closer and closer to her new found "friend", which she named Dolly. So close that they slowly became one. Vera would carry on conversation with Dolly… and Dolly would talk back, or was that Vera with a new Ventriloquist act?
As time went by, the clowns continued to pick on Vera... And she would simply say, "Dolly Doesn't Like When You Tease Me".
One night, as the clowns gathered onto the BigTop Stage, they found Vera hovering over a lifeless blood soaked fellow clown. Vera turned around with a smile and simply said, "Dolly Did it".
Short Story Written By:
Shanice L. Wadell
Products Used:
Contact Lens Hub - Bloodshot Lenses
Mehron Makeup
•Mehron AQ Paradises Paints Yellow + Red + White + Black
NYX Cosmetics 
•Ultimate Brights
•10 Pod Avant Pop
•10 Pod Perfect Filtee
•NYX Black Jumbo Pencil
Graftobian Makeup
•Pros Aide
•Magic Blood Powder
•Blood Paste
Tarte Cosmetics
•Energy Noir Palette
-Breast Pieces (carved stars) home made. Clay/Latex.
-Doll Head Piece home made: tin foil/modelit/wire/latex/hot glue.
-Ruffled Collar home made from Wire, Wide Gold Ribbon, Red Tulle, and hot glue.