Monster Making Contest - Submission 3 of 3 - Pennywise (Chuckywise)
 This is my third of 3 submissions to the contest - Pennywise (Chuckywise), the Dancing Clown.  This is probably my most popular and well known sculpture, as it went viral at one point last year.  I put "Chuckywise" up there because, I think, the most common comment I got on it was "looks like Chucky".  I think there COULD be a resemblance (the hair in the video, which I later tried to adjust, does seem Chucky'ish), but I did a lineup of the 3 faces, and it's a bit of a stretch - but if people like it, all's fine.  
  The video of the sculpting process: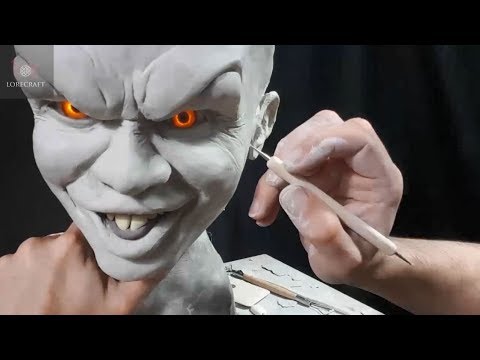 https://www.youtube.com/watch?v=OLxNua1M0lk 
More pictures available here: 
https://www.lore-craft.com/pennywise-stephen-king-s-it-1
  Construction:
   A core of styrofoam and paper, the majority is, again, all hand sculpted using air drying, nylon reinforced, water based clay.  I constructed the eyes using a white polymer clay (sculpey), glass cabochons, and I designed/drew the irises, and added LED lights behind the glass and iris design.    The buck teeth I sculpted out of miliput epoxy, painted with Vallejo "bonewhite".  The hair is a "Ginger Boy Band" synthetic wig that I hacked up and applied.  The collar is a dress I found in a second hand shop and also gave the scissor and stitching treatment.   Painted using Vallejo Airbrush paints (Deadwhite, Bonewhite, Gory Red, and black wash).  
   Those other 2 guys I also made (DARKNESS and The Night King), but I could only choose 3 to submit here, so those two fellas have to take a backseat.  Hope you guys enjoy the work!  
   As I said again, I am a solo-independent guy making these in my apartment, primarily for my Youtube channel, so if you like the work, there's more to watch over there.  Best of luck to all entrants!  And thank you again, Stan Winston School, for putting up contests like this!  Cheers - Nicholas