Monster Making Contest - Submission 1 of 3 - Supreme Leader Snoke
  (had to repost due to error on first version)
Hello all!  I'm new here!  I'm a self taught solo independent guy, making sculpts out of my apartment.  I timelapse my work and post them to my youtube channel, LoreCraft.  I have a few sculpts to enter here (never entered any contests before, so this is my first!).  I started sculpting about a year ago (everything I've ever made is up on my channel, so you can see the progress, and an occasional failure/falter).   All my work is hand sculpted, using nylon reinforced, water based, air drying clay.    
Submission 1 - Supreme Leader Snoke.
       Completely hand sculpted original (no moulding or casting) - You can watch the video of me making him here: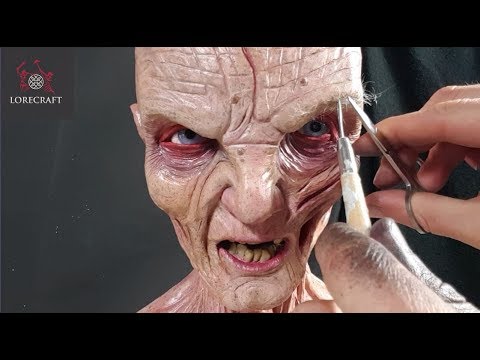 https://www.youtube.com/watch?v=hn-ObUiiX48 
More photos are available for viewing on his gallery page on my website: 
https://www.lore-craft.com/snoke-star-wars
  About the sculpture:
    He has a core of styrofoam, paper, and plastic bubble wrap, to keep him lighter.  His primary construction material is water based, nylon reinforced, air drying clay.  The teeth are plaster that I sealed in a UV resin for gloss and protective purposes.  His eyes are glass, and he's painted with acrylic Vallejo airbrush paints.   I used multiple techniques to get the colour as close as I could to realistic - brushes, airbrushing, etc etc.  A lot of it was intuition, and I'm sure there's special vocabulary to describe some of the techniques, but as I'm self taught I never really garnered the lingo from the art world, so it's difficult for me to put it into words.  I did a lot of "dabbing" with a dry'ish brush to get the liver spots on, paintbrush "flicking" to add freckling.  Multiple layers of various colours to give the skin depths.  I added veins to the sculpt and highlighted them via paintrbush with blue-green, and skin tone painted over to make them appear beneath the skin.  Oh, and his eyebrows are real human hair (don't ask me how I got it! :P ).  The cloak I made myself, using an old hoodie that I chopped up and stitched on a gold fabric I found at a local fabric shop.  The shirt is a regular V-neck I mangled and stitched on there as well.  
    Honoured to participate in this!  Thanks for having such a competition for us!  It's great for us fellas just starting out.