Gimli the Dwarf FX Makeup contest entry Character #1
Gimli the Dwarf FX Makeup by Celtic Ruins Designs 
I spent a lot of time and effort on this costume and it has become one of my favorite costumes I've ever made! It tested all of my abilities and was an amazing learning experience. Here I am applying it to myself and filming at the same time. 
This costume allowed me to delve, briefly, into chainmaile working and making beards and mustaches. I had ventilated wigs in the past, but this was my first time completely constructing a piece from the ground out! The beard consists of tracks sewn on to lace tulle, and as you get towards the face, I've ventilated all the hair in to look more natural and to cover up the tracks. The mustache is all hand knotted onto a piece of lace tulle.
I also had to make a 'fat suit' to add much needed bulk to the costume and my frame! I made it from cotton spandex and batting.
All of my prosthetics are made from your basic gelatin prosthetic recipe. The sugar free syrup is used solely for the sorbitol it contains. But it's not a requirement, it just allows your gelatin to hold up a bit longer. These are one time use, usually. Mainly because they melt, but the edges can be blended away seamlessly with witch hazel.
Here is the video of my applying my Gimli make up!
https://www.youtube.com/watch?v=FKcHF13YMW4
Enjoy!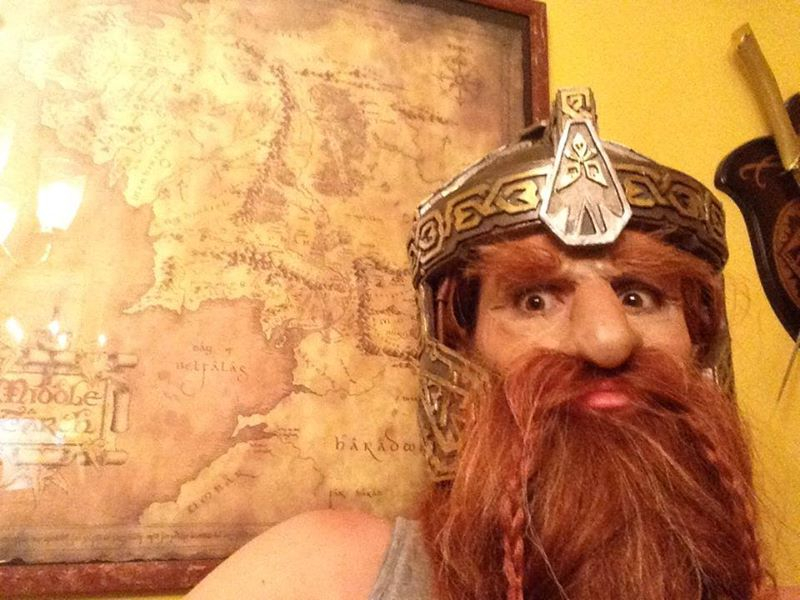 Post edited by Nadine Palmer on