Bastet Egyptian Cat Goddess - Halloween Contest 2017 Entry
Hello all!
My name is Kim and I'm from Chester in the U.K. 
I'm entering my Bastet costume, which is based on the Cat Goddess from Egyptian mythology and also heavily inspired by the character from the video game Smite. Most the costume is fabricated from EVA foam and various bits of material.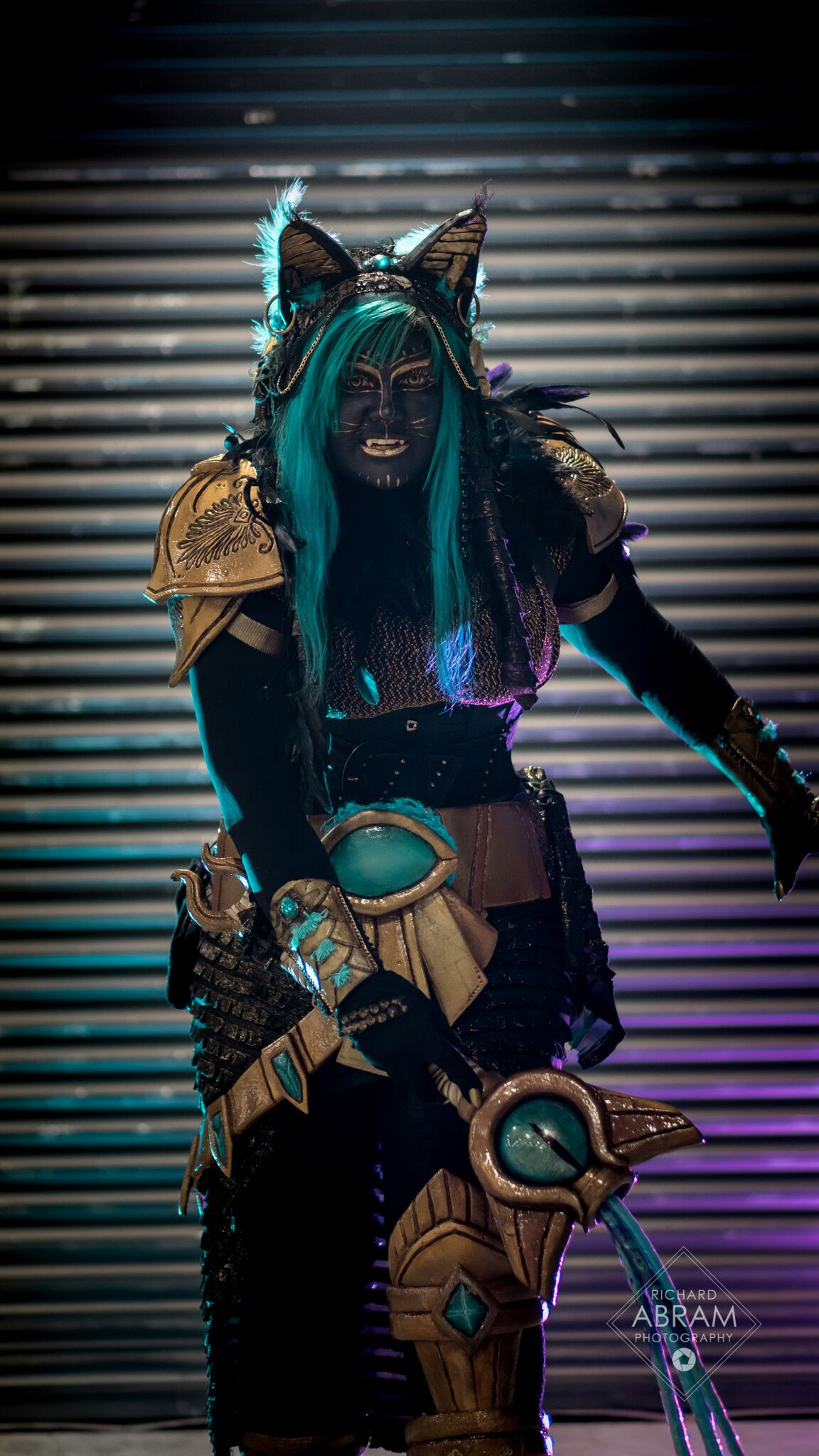 The headdress / ears are crafted from EVA foam and are attached to a headband, painted gold and black. I added additional details like turquoise feathers, sequins, gemstones, ear rings, chain detail on the back and draped across the front to frame the face. I used the same material for the headdress as the skirt. I wanted to give her an elegant look as well as being a ferocious warrior. With the makeup I used Snazaroo metallic black and Mehron mixing liquid and gold, eyelashes, as well as applying fangs and contact lenses.
Below shows the progress pictures for the whip weapon, the feet and shoulders. The whip was made from layers of EVA foam and PVC which I sculpted by hand using a dremel tool, sand paper and wood burning tool. The whip strands are around 5 metres of continuous 50/50 LED lighting strips. They were glued and soldered back to back and connected to battery pack, which is concealed in the handle. These were then covered with a light blue tissue paper to diffuse the light when switched on and then clear shrink wrapped to seal the strands together. A remote can be used to change the colours and the brightness of the lighting. The cats eyes were made from plastic and painted with nail varnish from the inside in layers to give them depth, still enabling the LED light to shine through.
Claws on the boots, belt and leg armour were fabricated from EVA foam, everything hand painted and sealed with plasti dip and then coated in yacht varnish to give it a shiny, protective finish. 
https://www.youtube.com/watch?v=MbHkXTAoDQE
The arm bracers were made from scraps of an old leather belt which I stitched and glued details on to match. Of course being a cat, I needed a tail! I made a wire frame as a foundation, so I could bend it in to any shape. That was then wrapped in foam tubing and opaque, hosiery material was stitched to it. I used the same material for my legs and arms for the rest of the costume. The tail jewellery again, crafted from EVA foam and painted faux fur. 
The top and skirts were sewn material and corset was modified to suit the costume. Gloves were sewn with spike details and claw nails hot glued to ends. 
I've enjoyed every moment in making this costume and also acting in character. It's something that started off as a simple idea and has evolved over time: a love of cats and egyptian mythology. Thanks for giving me an opportunity to show her off