Winifred Sanderson from "Hocus Pocus"
Hello everyone,
I would like to enter the Stan Winston School of Character Arts 2017 Halloween Costume Contest with my Winifred Sanderson Costume from the movie "Hocus Pocus" (1993).
I made this costume in three years because I really wanted to find the best fabrics and the ones that looked much similar as possible to the ones used in the original costume so I decided to search not only in my country (Italy) but also around Europe.
I wanted it to be "screen accurate" also where eyes can't see, reason why I created the underskirt, shoes and bloomers like in the movie.
The main velvet dress is hand painted in gold and ornated by more than 10k AB crystals; I hand dyed the fabric, in this way it turns from green to violet depending of the angle you are watching the costume.
The Makeup take me from 3 to 4 hours, I start blocking my eyebrows and then I continue to work with contouring to change the shapes of my face.
I complete the look with a teeth prosthetic, a lace wig, nails and all the accessories
There is no Winnie without a Book!
Reason why I created a life size book all hand sculpted and then molded, the "skin" cover is made in latex, the "metal" parts in resin.
I made the book also a box so I had a place where to hide my personal stuff (like my phone)!
I attach here some pictures, everything that you see is hand made by me, hope you like it!
Much love,
Manuel
First Winifred Sanderson Picture:
The "Before and After" of my transformation:
On stage with "I Put A Spell On You" performance:
https://www.facebook.com/ManuelDAofficial/videos/1569472223103771/
Video of the Makeup:
https://www.facebook.com/ManuelDAofficial/videos/1691624957555163/
Full version (ITA sub ENG) full HD: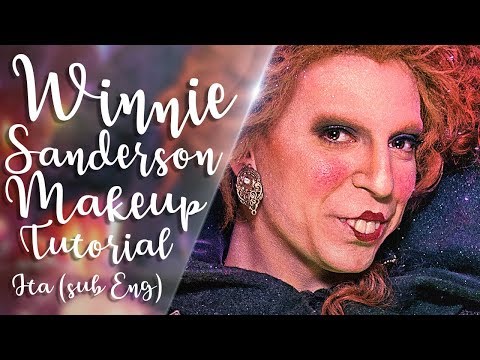 Costume pictures:
And some pictures of the book!
To conclude my submission, here there are some "Work In Progress" of the Makeup:
Happy Halloween!
Post edited by Manuel D'andrea on