Zombie Drill instructor Animatronic Puppet

Chris Ellerby
Admin
For my
Twitch live stream
(
https://www.twitch.tv/vexfx
) I plan on incorporating an on-screen Zombie Drill Instructor character to add a bit of Hollywood production value.  I'll be sharing the process of bringing that character to life here on the forums as well.
On last
Saturday's live stream
I sculpted a quick maquette to test out different ideas for the character.   This was a fun process because our community on Twitch was able to take part in the creative process and make suggestions/give feedback.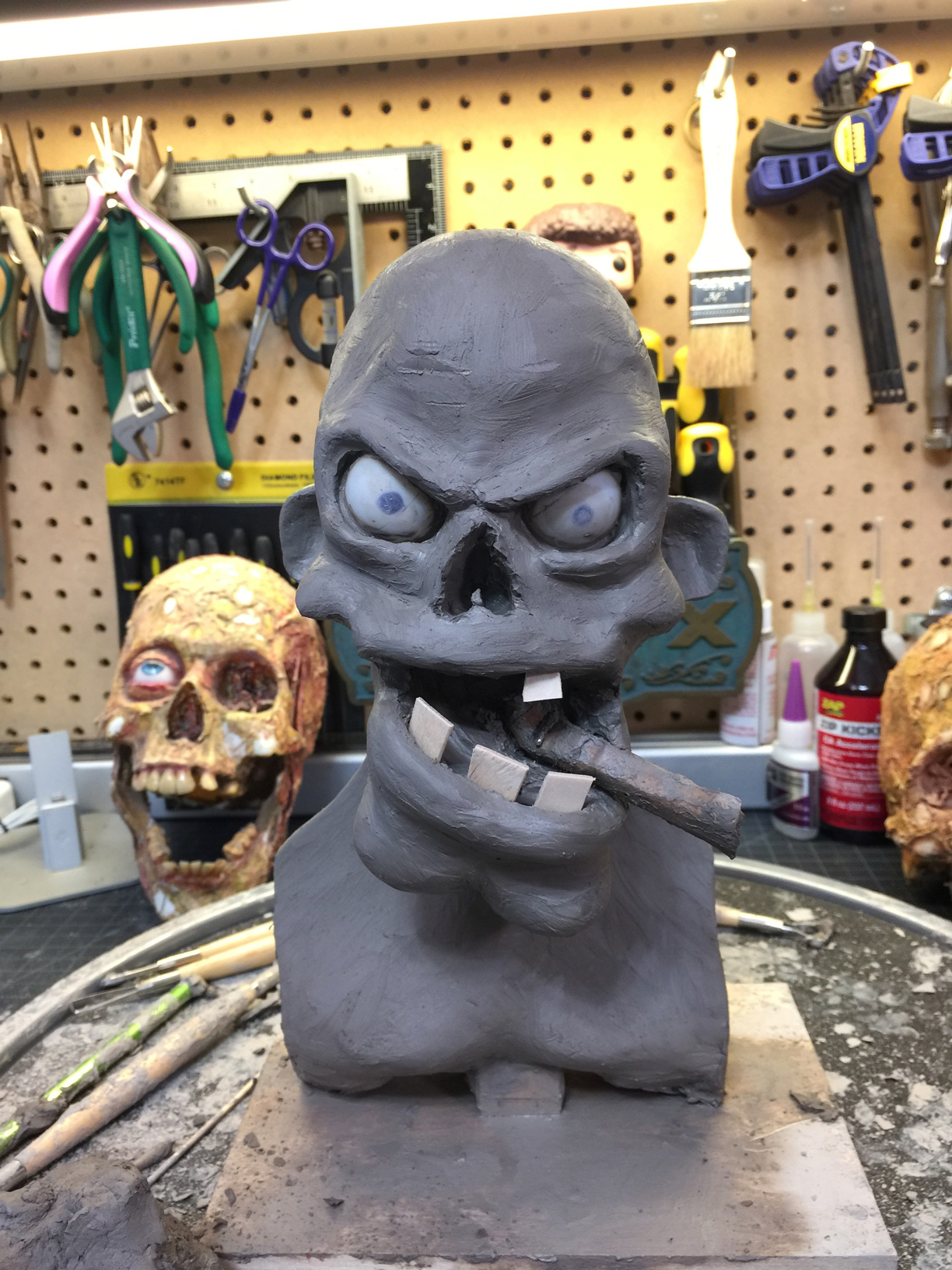 Since this was just a quick and dirty maquette with only primary forms I wanted to do some digital painting on the character to change some of the features and explore different colors and textures.
On
last night's live stream
we did a quick digital paint, which will be us as reference when we start sculpting the final character.
I'm pretty happy with how the character is turning out.  We may make a few more changes before moving on, so any suggestions and feedback is welcome!
Next steps include:
Sculpt the final character in Chavant or Monster Clay
Make a 2 part fiberglass mold of the sculpt
Do a clay lay up inside the fiberglass mold and produce a mold core
Create a fiberglass underskull
Cast a silicone skin
Design and build animatronic eyes/lids
Build and incorporate a hand-operated mouth mech
Paint the skins
Fabricate & finish the hat
Design the cigar with embedded LEDs for animated glow, and incorporate tubing and a connection so smoke can be fed through from an attachment point in the jaw
Fabricate teeth and eyes
Final character assembly and finishing work
Explore voices and character performance
Film the puppet on a green screen
Compositing and visual effects pass
Take a nap
More to come soon!
/Chris
Post edited by Chris Ellerby on