11' Tall Audrey II Puppet
Hi There!
Here's a look at my Audrey II, which I designed and built for a stage production of Little Shop of Horrors this spring. When fully raised she reached 11 feet tall, and lifted the actors into the air as she ate them. I also developed a lip mechanism for her - I gave the smaller plants articulated lips and I wanted this big one to match. She was inserted into the set during intermission and spent all of the show's Act 2 onstage. I created a rotating "see-saw" boom mechanism that served two purposes - to create greater dynamics in her movement, as well as to let her "grow" taller as she successively eats people over the course of the act. Early in the act she lived around 8' in height, reaching her full 11' after claiming her final victim.
Among the pictures are some close ups, long-shots, and a shot comparing one of my development sketches to the final product (with myself and the other Audrey's for scale). Additionally, here's a short video chronicling her build and operation: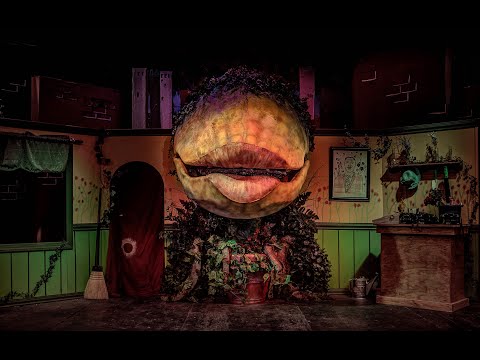 https://youtu.be/e9MYPbeJ2-A
Thanks, enjoy!
-Brandon