Anna The Porcupossum--Realistic Stop Motion Puppet
For this contest I decided on making an animal puppet! I took inspiration from porcupines, brush possums, mice, and sugar gliders. I really love working with synthetic fur which is why I went for a fluffy creature.  She is fully poseable including her ears, toes, feet and mouth. As well as her neck, legs, and body.
How I made her:
First I sculpted her paws and face. I then made molds using mold putty.
I used mold builder liquid latex rubber and painted layer by layer into each mold. 
Once dry I pulled the latex rubber paws and face out.
I used copic markers for detailing the latex rubber and the fur.
The body is foam with a poseable armature. I used loc-line plastic tubing.
I then sewed the faux fur body and slipped it over the foam. 
The spine/whiskers were made from feathers (as a I learned from one of your classes)
The fur was tediously attatched to the paws and face using liquid latex as an adhesive. 
Finally I used wood floor shine to gloss up the eyes, nose and mouth. 
Also here is a test animation as well as progress photos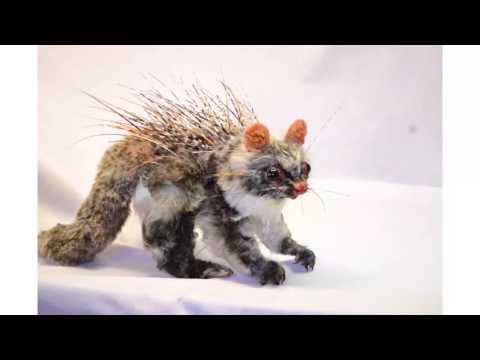 https://www.youtube.com/watch?v=GmmvSJL8kqw

Thank you so much for looking! I had a blast making her.