JP 1 Clever girl Velociraptor Fullsuit
This suit was finished back in 2011 based off the main female labeled as Clever girl from the 1st JP movie. Took 3 weeks of solid work to complete.
Sculpted and molded the finger, feet claws and cast in rotocast plastic. Head was blocked out in owens cornering foam then shaped with oil base clay. once the shape was ready a 3 part mold was created using rebound silicone and plaster mothermold for the head and a separate 3 part mold for the lower jaw. My goal was to make a moving jaw that the performer could activate while in the suit with no servos.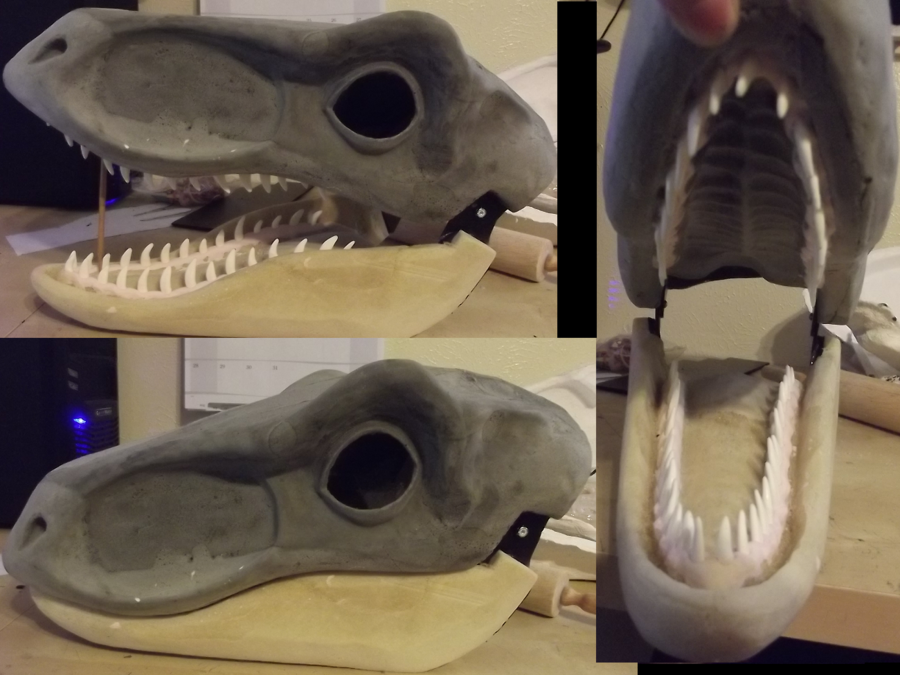 My final head cast was made from plastic resin for the teeth and rotocasting ridged foam to keep the head light weight plus solid for the structure support. I then created a pivot hinge for the upper head and lower jaw to move. A head harness was then custom made using head form sintra plastic. a second pivot was added to the head harness for the performers jaw plus a spring back point. the 2 hinges are then connected with a metal arm so when your mouth opens so does the raptor head.
https://www.youtube.com/watch?v=Z8Xx4IlYIh4
video shows most of the understructure as well as the movement of the full costume. This suit was designed to be easily worn for many events. most of the construction is a mixture of low density upholstery foams and reticulated foam for airflow. Finger extension and extra padding on the back, legs and behind the neck to further create the illusion of a dinosaur shape and hide the human form.
a pattern was created using duct tape and cling wrap then transfered to a patterned upholstery fabric. once the fabric was all sewn i had to carefully glue in all the muscle areas and line the foam insides with athletic mesh. a hidden view spot is made so the performer and easily see and breath through a black mesh material but to hide the face it was cut to look like lines on the neck and blended with airbrushing. The eyes are resin clear cast plastic 2.5" half spheres hand painted with metailic acrylic paints.
Finished product!
Video of the movement here:
https://www.youtube.com/watch?v=Eik13qfn-Fs
Post edited by Jessica Angus on