Classic Morlock - A tribute to my dad
https://www.instagram.com/bbsfx
Morlock - my own interpretation of the classic Morlocks from 1960's The Time Machine. 
Sculpture - Bronzed-up version with rusty patina.
My latest personal project. This is a sculpture I wanted to do for years. I have made it now as a present for my dad.

It is thanks to my dad that I have some of the interests I have: it's thanks to my dad that I got obsessed with films and sci-fi & adventure genres from a very young age. I had The Time Machine on tape from the TV and I would rewatch it over and over along with Legend, Terminator, Little Shop of Horrors, Alien, Jaws and many others.
So this is a tribute to my dad, The Time Machine, Morlocks, Jules Verne, pirates, corsaires and many other characters!
**
He still lives in my home country, and when I went to visit last time he had been taken to hospital before I landed. I had already made the bronzed cast of the Morlock and I was planning on bringing it as a present before that happened, and in a weird way, it was the right moment to have made this. I went to the hospital and I took the Morlock with me, all wrapped in bubble wrap as a shapeless object, and I gifted it to my dad, first asking "Dad, see if you can guess what it is". Right away he said, "The Time Machine" (in English, which is not his mother tongue). It was a great moment. 
.
.
Sculpted in medium grey Monster Clay.
Cast - Moulded and cast in polyurethane resin from Polycraft (supplied by MB Fibreglass) with a charge of bronze powder.
.
I used several of my favourite tools, but especially some super tiny tools from Ken's Tools 
for the fine details, as this is a very small sculpture. I will be making a colour version of this Morlock soon.

Some videos: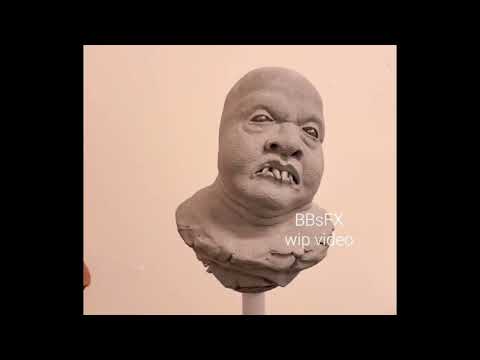 https://www.youtube.com/watch?v=NVqR_aRCDTg
Post edited by Begona F. martin on