Halo: Combat Evolved Life Size Plush Grunt Puppet
Hello from Down Under! I'm Alex, an aspiring prop and creature creator. I'd like to introduce Grunther - the
Halo: Combat Evolved
plush Grunt puppet.
I had the idea to create this puppet at the end of 2019 after finishing my H:CE Marine cosplay. I always intended it to be a multi-year project, but I ended up making it in nine months in 2022 to debut at the Brisbane Supanova convention. I was heavily inspired by the Walt Disney World Animal Kingdom 
Merry Menagerie puppets, the work of Barnaby Dixon, and the Olaf puppet in the Frozen Musical.

Why this kneecap-biter for a puppet? They're cute and huggable, of course!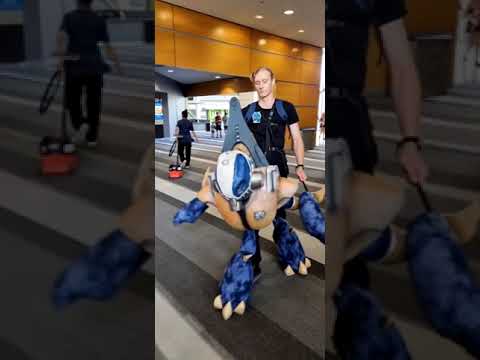 https://www.youtube.com/watch?v=NvoQC0LA3TI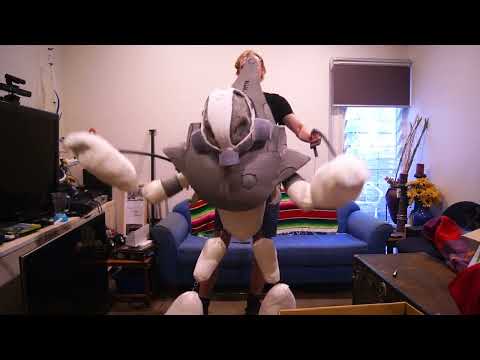 https://www.youtube.com/watch?v=iLuZKgtiXtw

To bring this together, I had to combine a range of skills - sewing, foam smithing, 3D modelling, 3D printing, pattern making, painting and puppet ergonomics. The primary pieces of software I used were Blender, Inkscape and Cura.



Photos above are by Rohan Heaton (@rmh1989). Below are photos taken by me.

Although "finished", Grunther is still a WIP. After the Brisbane Convention last year, I ended up in a lot of pain from the rigging and weight of carrying him around. Although I've made a number of adjustments, I need to rethink almost the entire rigging system before I can get him walking again. In the meantime, so he isn't locked in a box in 50 pieces, I've built a PVC stand for him so he can always remain standing.

The full build thread for the grunt can be found on the 405th Halo Cosplay Community here. My work can be found at my site, planetalexanderprojects.com, or PlanetAlexanderProjects pretty much anywhere like Instagram, Artstation and YouTube.


Post edited by PlanetAlexanderProjects on