Blackhardt from Overwatch!
This is our first big costume build! Stands about 7.5' tall with a 5'4" person inside
Stilts are made of wood and PVC pipe
Inner skeleton made of PVC and nylon straps
Armor is made of EVA foam from the hardware store and from TNT Cosplay Supply all covered with tons of coats of Plastidip
We wired and programed all the LEDs. Singles in the helmet, knees, and shield. Flickering RGB LED strips in the back and "belly mouth". The back also has a fan attached that blows out this fabric flame
Fingers have fishing line run through them for a bit of hand animation
Here is a short video preview: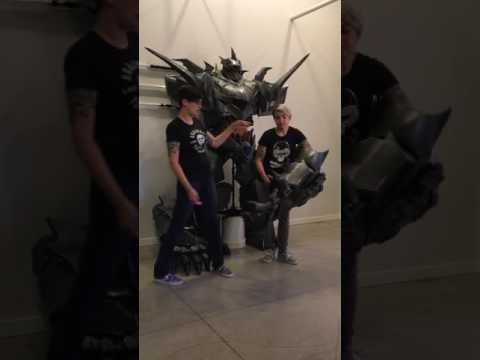 Thank you for looking!
FB:
https://www.facebook.com
Insta:
https://www.instagram.com/egg_sisters_cosplay/